Continental Drift Watching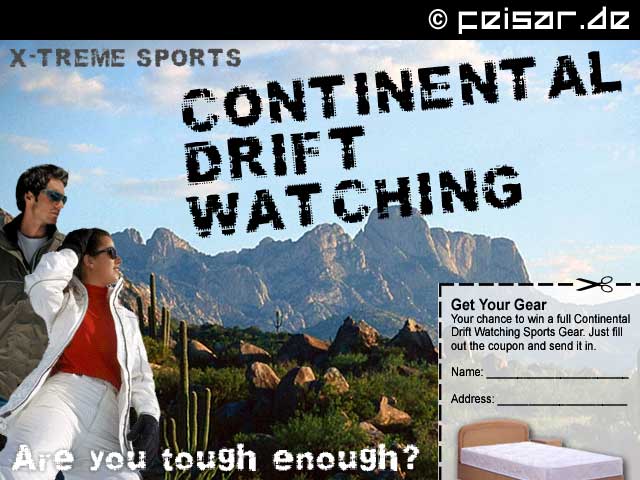 (A.S. Idea: A.M.)
Comments
18/01/2004 | Case
Nice Idea. Must be a very funny extreme sport. It is a little bit like watching paint dry or watching gras as it grows.
19/01/2004 | Jörg
Watching paint dry or gras grow are only for people who can't take it seriously. Far too normal from my point of view.
19/01/2004 | Rainer
If you've become a couch potato, get on to the real challenge.

Greetings,

Rainer
Continental Drift Watcher's Association
Germany
12/02/2004 | Gao Dawei
Un' wegen was ist das Bild gemacht geworen im "Arizona" (kukt auf die Saguarokaktus, wass treft mann nar in mein native "State")? Da ist nicht kein Kontinentaldrift... nar Kontinentalschlaft.
12/02/2004 | Rainer
@Gao Dawai
...you have to wait long enough for the continental drift to set in :)
06/08/2004 | stoned out of my head
three words dumb
19/04/2005 | stuntman
i might seem a hatah but coooooooorrrrrrrrrrrrnnnnnnnnnnny
04/01/2006 | funny
hahahahaha
06/03/2006 | -u(-u
roho nik matkoum
Add your comment: