Disney's Magic Coal Mine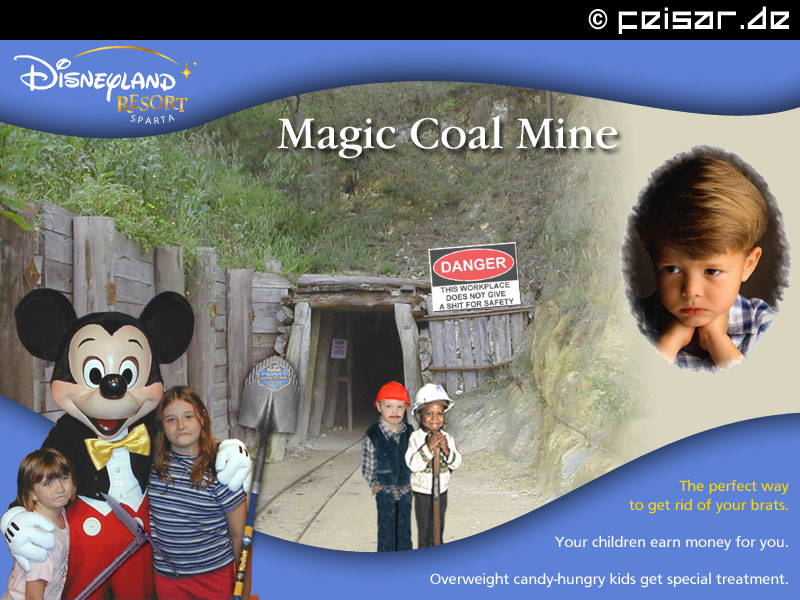 (A.S.)
Comments
11/04/2005 | Patrick
A little mean, but very funny.
Patrick
12/04/2005 | your name here
that is a funny picture
12/04/2005 | :D
:D
12/04/2005 | aaa
21/04/2005 | Errraddicator
not the funniest on this page, but not bad at all.
18/05/2005 | The Diesel
The coal dust won´t be worse than city smog. And no sun, no skin cancer. It´s good for the children. For sure! >:-)
03/07/2005 | dam u dont want 2 no
i think this add is funny but cruel lol :-)
03/10/2005 | lol
aaarrgh bitte verschone uns endlich mit dem schrott! dir sollte man photoshop wegnehmen.
25/11/2005 | Stephan
Hey ich find dein Humor ziemlich gut..
das Bild hat ja schon fast was sozialkritisches von wegen kinderarbeit.. am end is das beabsichtigt?!

09/12/2005 | me
ha ha
13/12/2005 | asid
excuse me ###
05/08/2006 | Gagster
Lolz!! hahaha..!!
Add your comment: