Urinal by Calvin Klein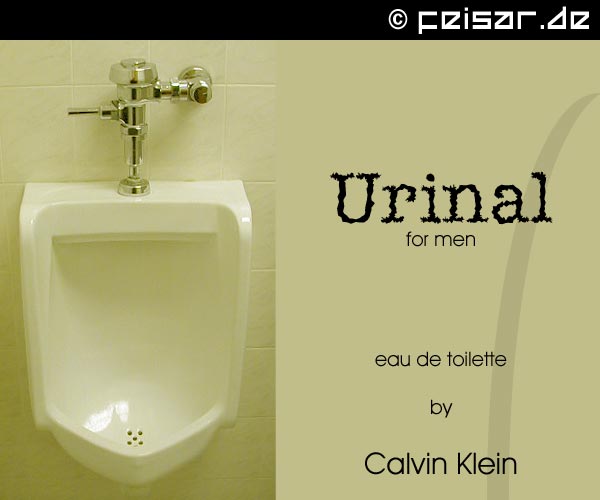 (A.S.)
Comments
04/02/2004 | me
yawn
07/04/2004 | chris
I need one of these, I just wish it was a unisex one so the old lady can use it and didnt have to go out side...I guess we never see eye to eye
08/04/2004 | lol
she can now!!! http://www.restrooms.org/standing.html
21/04/2004 | laurenhillmen@yahoo.com
ohmagosh thats funny!
23/05/2004 | Dr_Seltsam
That's a mean relaunch of an older one..
It was initially created by Wiglaf Droste - "Am Arsch die Raeuber"

he invented the perfumes "Iltîs" and "Alcôl" just to describe the scent of the ragamuffins at Bahnhof Zoo in Berlin.


21/06/2004 | Me again
funny
24/06/2004 | ?
oke i dont get that one :s... whats so special on a toilet... we have a lot of them where i came from.. may-b new for your guys??
14/08/2004 | m.seiss@logo-vision.de
hei
26/08/2004 | danny
I would not put pee on meeeee!!! still funny
29/08/2004 | urinal
gtg pee bye
02/09/2004 | mr urinal
it convenience and wonderful
27/04/2005 | joe
i am a man but i dont know how to use a god dam urinal ! ha ha ha . NOT
10/05/2016 | Kalin
heckuva good job. i sure apaticepre it.
Add your comment: