Dare to repair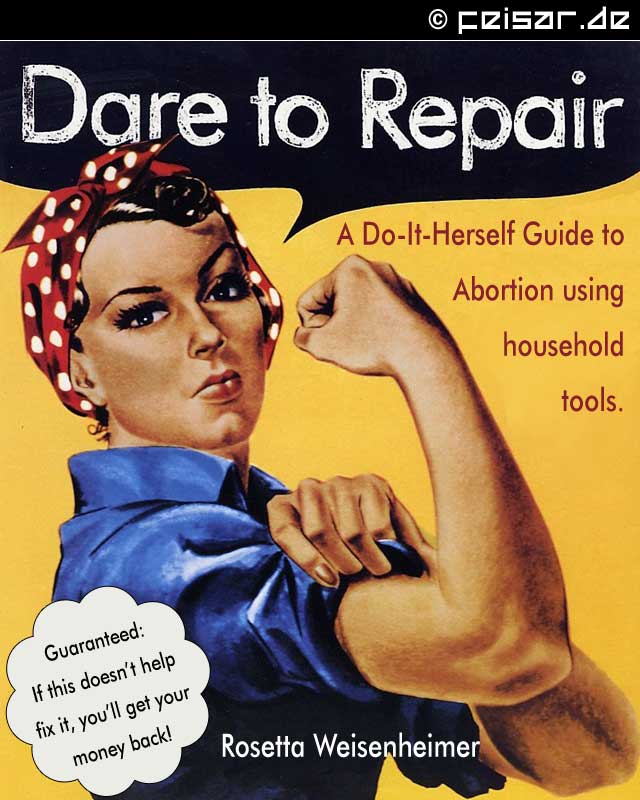 (A.S.)
Comments
01/02/2004 | ola
kasasasa
02/02/2004 | FARK
FARKFARKKFARKFARK< i>KFARKFARKKFARKFARKK
02/02/2004 | Rainer
That's disgusting!
02/02/2004 | poo poo
okay now what?
02/02/2004 | Case
This one is a little bit too extreme for me.
03/02/2004 | Travis
Let me have the embryo
15/02/2004 | Jim
nice nice nice
10/03/2004 | MrWise
I want her skill-points...
21/04/2004 | Disgusted
This one has gone too far.
06/05/2004 | Patrick
This one is too extreme for me too.
Patrick
13/07/2004 | Fred
WHAT!!!! NO TOOL PICS???? BUMMER
13/08/2004 | Johann Fritzgerald Kenn-I-Di
Very nice. I like this one most :)
16/12/2004 | Delaware
This image ended up on the front page of the News Journal in Delaware, USA. They ended up taking your image and boy was this a mistake. They removed it from the website alreaddy but to get a copy of the newspaper you can go to www.delawareonline.com Dec, 16, 2004 issue Home aned Garden Section

Ironically it is titledWe've made a list and checked it twice! HA! HA!
16/12/2004 | tg
More on the News Journal: Your image is part of a tabloid spread on books that make good gifts. It hangs, ornament-like, from a lovely strip of gold garland with 6 other "practical" books. Can't wait to see tomorrow's letters column. The Christian Right will be all in a snit. A holiday classic!
20/01/2005 | Dr Weisenheimer
Read more on the Delaware News Journal's blunder here.
19/04/2005 | a
a
19/04/2005 | oooooo dat my sis sis lil but
ooodat my sis sis lil brother here dont hit me
23/06/2005 | Nag
I want to defecate over that woman.
04/01/2006 | ergggh
yuck dats disgusting
Add your comment: